Our Summer Photo Contest is now closed! We have a winner!!!
Congratulations to Gianna. She was very excited to win the Mountain Bike last week, but she also told us that she's planning on auctioning it off to raise money for a children's charity. Such a generous & sweet gesture. We sure do have the BEST patients!!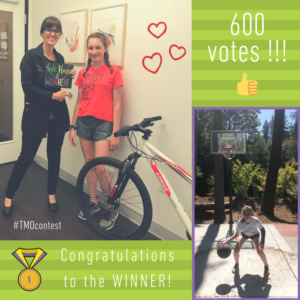 #TMOcontest
---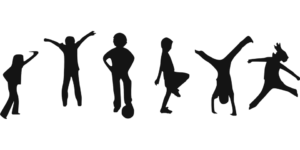 Show us how you are staying active and healthy this summer, and win a brand new mountain bike, worth $200. Simply follow the two steps to qualify for a Prize. The contest ends on Sunday, September 9th, 2018 at 12:00pm PST.
Go to https://1.shortstack.com/V02rtk to enter the sweepstake.
Or
Follow the below steps:
STEP 1: Click here to upload your photo and fill out the form
The individuals are allowed to submit one photo per person in this contest. Please complete all the enquired fields in the entry form.
STEP 2: Share this giveaway with friends on social media
After you submit your photo, share it with your friends and family on social media. Encourage them to vote for your photo and help you win! Be sure to use the hashtag #TMOcontest in the comment along with your uploaded photo.
PLUS, each photo submission will earn 25 reward points with TMO.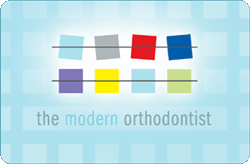 An individual may vote for as many photos as he or she wishes, but only one vote per photo will count. The photo, which receives the most votes, will be featured right here on our blog, and on our social media channels (Facebook, Twitter, Instagram, and Snapchat).
While we would love to display all submissions, any images that are blurry, dark, washed out or otherwise difficult to see will not be presented. Don't forget to submit by Sept 9th, 2018!
We can't wait to see your pictures – so good luck and stay healthy!
Love, TMO Team
---
Please be sure to follow these easy rules:
Entrants can enter the Contest online starting on July 19th, 2018 at 9:00 a.m. PST and ending on September 9th, 2018 at 12:00 noon PST. Photo must be in either a JPG, JPEG, PNG or GIF file. The Contest is only open to residents living in Vancouver, WA, and neighboring cities, towns, and suburbs (Portland, Gresham, Camas, Salmon Creek, Troutdale, Lake Oswego, Tigard, Beaverton, Minnehaha, Milwaukie, Fairview, and other). A picture can only be entered once (one entry per person). Entrants may opt to enter via Facebook or Instagram, however, the Contest is in no way sponsored, endorsed, administered by or associated with Facebook or Instagram. Only an Entrant may be eligible for a prize. Any other person who contributed to the Photo (e.g. a professional photographer) will not be eligible for a prize. The Prize Winner will be announced on social media and in-person by Sept 16, 2018.  By submitting the photo an Entrant agrees that his/her photo will be shared with the public on The Modern Orthodontist website (www.themodernorthodontist.com) and the social media channels during the Contest. For any inquiries related to this contest, please email regina@themodernorthodontist.com.

---