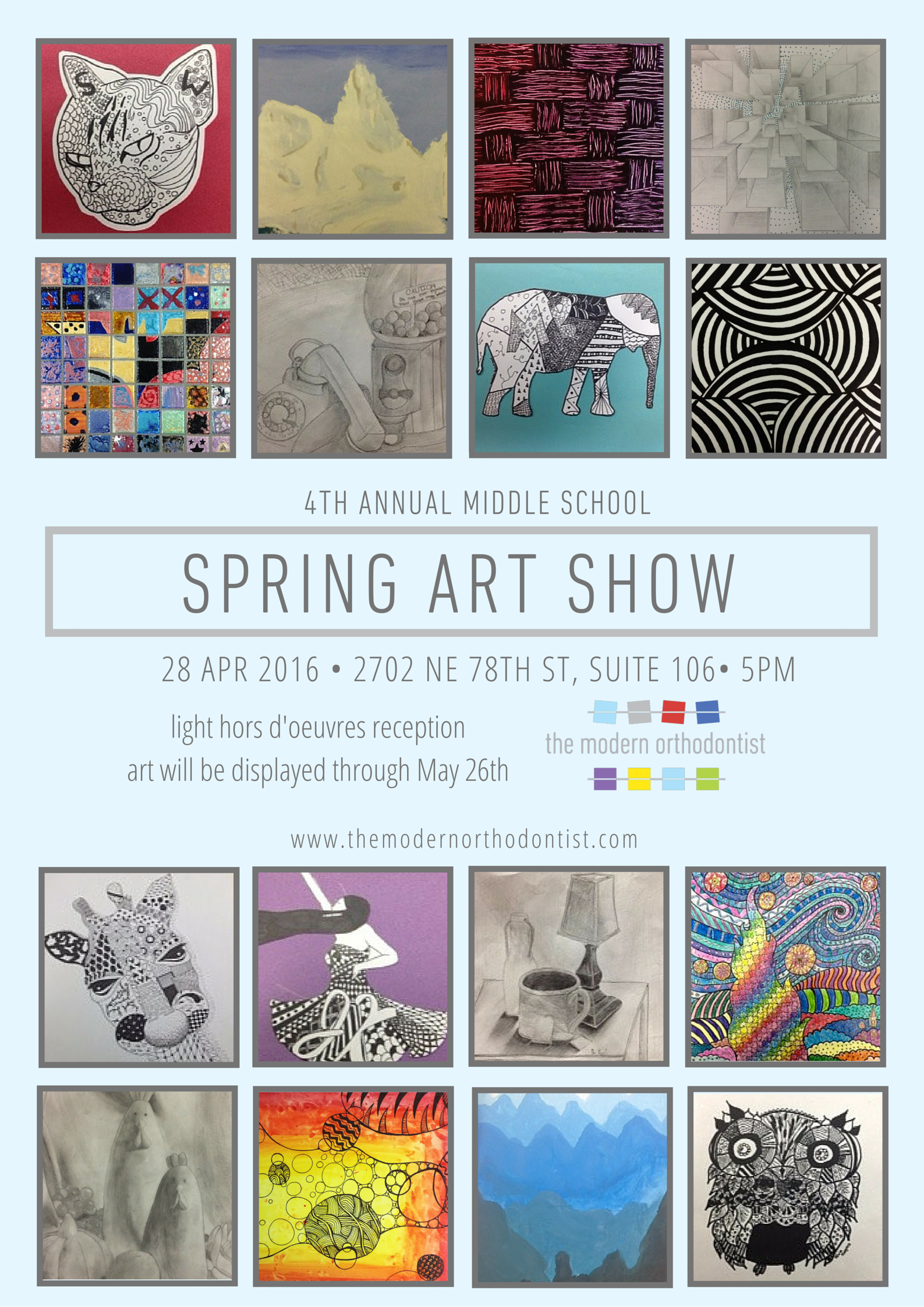 The Art Show opens on Friday April 28th
Opening night will be from 5pm – 8pm.  Light hors d'oeuvres will be served.
Art will remain on display until May 26th
April 28th will be a night for the middle school kids to remember.  They will walk into our modern practice and see their art displayed for all to see. How many kids their age can say they are "showing artists?" Well, now these students from our local middle schools can say they are. I say this qualifies for bragging rights!!!  The students are working hard and will surely wow our guests with the one of a kind masterpieces they are creating. One art teacher contacted us to ask if her student can display some small sculptures he has created out of beeswax (from the bee's he raises!) and of course we said YES! We can't wait to see what he is creating 😉  This is what our Art Show is all about. We love showcasing how young artists use various mediums, in various ways, to create a wonderfully diverse show.
We are so excited to partner with Jason Lee, Thomas Jefferson, Alki, Vancouver School of Arts and Academics, Mcloughlin, Gaiser Middle School and Cedar Tree Classical Christian.
This is a great family event so bring 'em all down. The more the merrier. We want to show these students what hard work can produce. So invite your friends, co workers, family, etc to come to The Modern Orthodontist on opening night or any time within the subsequent 30 days and you will be amazed at the art you see.   FYI, some of the art that will be displayed will be for sale.  100% of the proceeds go to the artists.
                   SAVE THE DATE 
Friday April 28th from 5-8pm
2702 NE 78th ST. Suite 106, Vancouver. 98662
light hors d'oeuvres served
specified art will be for sale.
Art remains on walls of our practice until May 26th. If you can't make opening night don't worry, we got you covered 😉 Come by any time during business hours.
Hope to see you all there!
~Vicki